The Most DependableEasiestBestMost Trusted Liquid-Nitrogen Solution for Los Angeles-Area Businesses
We bring medical- and food-grade liquid nitrogen (LN2) to your business, when you need it, without any hassle.
Liquid nitrogen (LN2) is used primarily for rapid cooling and freezing. The liquid exists at effective temperatures below -196°C. This has significant applications in food processing and medical procedures.
Liquid nitrogen's use in food processing has become increasingly popular in the past several years. From innovative chefs at the forefront of molecular gastronomy to specialty ice cream shops and truly "frozen" cocktails, consumers love the flavors and textures that liquid nitrogen can bring.
In medical applications, liquid nitrogen has been popular for a longer time, with a host of uses — like the removal of skin abnormalities and cryogenic surgery, along with the fast and effective storage of genetic material via rapid freezing.
As you can imagine, such a cold substance comes with specific requirements for safe storage, handling and usage. Luckily, at CalOx, we specialize in providing businesses like yours with everything you need to use liquid nitrogen, from regular deliveries to storage, delivery and handling equipment, along with training and maintenance. In short, we take the hassle out of using liquid nitrogen in your business.
We Specialize in Liquid Nitrogen for Your Business
Our company is built to deliver liquid nitrogen (LN2) to businesses like yours. Small and medium-sized businesses may be an afterthought for our competitors, but for us, you're at the core of what we do.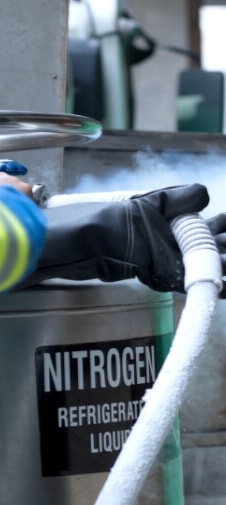 Medical Offices
Cryosurgery using liquid nitrogen is a common and effective treatment for a variety of benign skin problems.
Veterinary Clinics
Cryosurgery is becoming increasingly popular with leading veterinary practices for its safety and ease of use.
Fertility Clinics
Fertility clinics rely on liquid nitrogen for flash-freezing and storage of valuable genetic material.
Specialty Food Service
From truly frozen Caipirinhas to ice cream made from raw ingredients right in front of your eyes, Southern Californians are falling in love with what liquid nitrogen can do to their food.
Cryotherapy Centers
Cryotherapy is becoming a favorite treatment of professionals and everyday athletes. Many cryotherapy centers depend on liquid nitrogen to produce the supercooled temperatures that their treatments require.
See What Our Customers Have to Say
"Calox is a fantastic company. They're highly responsive and always get the job done. They have a can-do attitude."
Jim Pratt,
Respiratory Therapy Supervisor, Olive View Medical Center
"Calox has been wonderful to work with. They are always very prompt and their customer service is outstanding! I highly recommend their services!"
Danielle Spangler,
Owner, Beach Life Fitness Boutique
Delivered on Demand, or on Schedule
We make it easy to get the gases you need, when you need them. Call us to schedule a delivery when you're ready, or set up an automatic subscription and let us make sure you never run low and never have to worry about scheduling deliveries.
We've been delivering medical gases to Los Angeles-area businesses since 1936. Today, we serve the entire greater Los Angeles area with dependable deliveries and service.
More Than Just Liquid Nitrogen
At CalOx, we offer all the gases your business needs, including:
Carbon Dioxide
Nitrous Oxide
Medical Oxygen
Compressed Air
Liquid-Nitrogen Equipment, Accessories & Service
CalOx is also a full-service provider of liquid-nitrogen equipment and supplies.
Cryogenic Storage Containers
Liquid-Withdrawal Devices
Cryogenic Gloves & Aprons
Vacuum-Jacketed Transfer Hoses
Cryosurgery Equipment & Accessories